The Sanura area of Numazu City is located in the innermost part of Suruga Bay. Okusuruga Guest House is located in the middle of this quiet area with a small fishing port and mandarin orange fields.
In the surrounding area, there are sea that have the best water quality in Japan and mountains with a wonderful view of Mt. Fuji, and this area is the perfect environment to refresh your mood. From near the Guesthouse, you can see a large Mt. Fuji over the sea, and enjoy the sea and the nature of the mountains depending on the season. Please use it as a base for nature play in the northern part of the Izu Peninsula♪

Room
 There are two bedrooms, Room 101 and Room 201, both of which are reserved for groups and families. Each room has 2 bunk beds and can accommodate up to 4 people.
Room 101
Room 101 is adjacent to the common space on the 1st floor, making it easy to use shared facilities such as the kitchen. Beds are made to order, taking into consideration ease of use.
The room has only a bed. Please use shared toilets and showers on the first floor.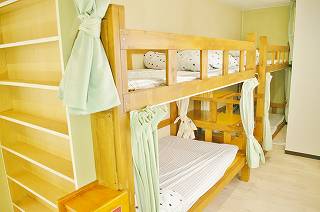 Room 201
Room 201 has an entrance on the second floor, which rises up the outer stairs. This room is recommended for guest who want more privacy, with a private toilet and washroom.
Also, you can use a bath and laundry as a paid optional service. (*The shared shower can be used free of charge.)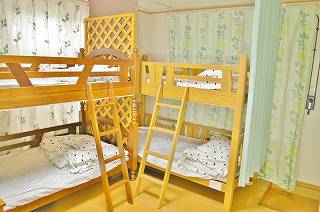 Shared space
There is a kitchen and a shared toilet, as well as a table for dinner and meals. Feel free to use tableware, cooking utensils, etc.
And, We offers various outdoor experience services as an option. Some of the equipment such as kayaks are displayed and stored in the common space, which also doubles as a decoration for the room.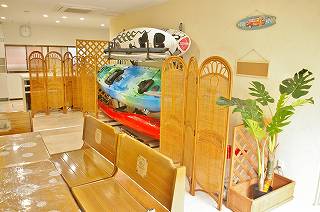 Facilities & Services
Free service
・Wifi
・shower
・Shampoo, body soap
・towel
・refrigerator
・Cooking utensils/tableware
Paid service
・Parking lot (1): One passenger car 500 yen, one motorcycle 200 yen ・Laundry (2): 300 yen for washing, 300 yen for drying, 600 yen for washing and drying
・Bath (*2): 1,500 yen
(*1) If you wish to use the parking lot, please apply at the time of reservation. Please note that the number of parking spaces is limited and it is on a first-come-first-served basis. If you come by car, please contact us in advance.

(*2) Laundry and bath (with bathtub) are ancillary facilities of Room 201, and it is a service only for guests staying in the room. If no guest stays in the room 201, guest in room 101 can use it.
Regarding accommodation
Room charge
【When used by 4 people】





High season

¥28,000

Day before holidays

¥20,000

Weekday

¥12,000

【When use by 3 people 】 





High season

¥21,000

Day before holidays

¥15,000

Weekday

¥9,000

【When use by 2 people or less】





High season

¥18,000

Day before holidays

¥13,000

Weekday

¥9,000
*The price is per room in Room 101 (consumption tax included). If you use Room 201, you will have to add 1,000 yen.
(*For example, if you use room 101 for 4 people on weekdays, it will be ¥ 5,000 per person)

*Long-term discounts are available for long-term stays of 7 nights or more(Excluding high season and summer). Please contact us for more information.
*[Day before holidays]: Friday, Saturday and the day before public holidays.
[High Season]: Golden Week (April 29th to May 6th),Summer (July 15,16, August 4-13),
Year-end and New Year holidays (December 24th to January 3rd)
[Weekdays]: Days before holidays, days other than high season

*Only room without meals is available. For meals, there are several restaurants nearby, so please use them or bring your own food and ingredients and prepare your own meals in the shared kitchen.
Check in & Check out
【Check in】

15:00~21:00

*Check-in after 21:00 may be possible depending on the day. If you are interested, please contact us in advance.


【Check out】

8:00~9:00

*If you wish to check out earlier than the above time, please contact us in advance.
After check-out time, you can extend the use for 700 yen every 30 minutes.(*There are some days that cannot be extended, so please contact us if you wish. In addition, it will be available until 11:30 at the maximum.)
Handling of valuables and luggage
Please manage your valuables and luggage by yourself. Please note that we are not responsible for damage or theft.
You can leave your luggage before check-in and after check-out in the designated area of ​​the shared space. At that time, please store your luggage with a chain lock on the pipe attached to the wall at the designated place. There is a lending service for chain-type keys (* charged). Please note that we are not responsible for theft or damage.
Accommodation on the day
On the day, if there is a staff member, it is possible to stay on the day without reservation, but on the day when there is no reservation for other guests, the staff member may be absent. We recommend that you make a reservation in advance.
(* This guest house operates in accordance with the Housing and Accommodation Business Act, and there is a limit to the number of business days per year. Therefore, it will be closed on the day before there is no reservation and the staff will be absent. (In some cases)
Cancellation
The cancellation fee is as follows.
・Cancellation up to 15 days prior to stay: Free of charge
  (For stays longer than 7 days, cancellation up to 22 days prior to stay: no charge)
・Cancellation 14-8 days prior to stay: 30% of room charge  
  (For stays longer than 7 days, 30% of the room charge if cancelled 21 to 8 days prior to the stay)
・Cancellation 7 to 4 days prior to stay: 50% of room charge
・Cancellation 3 to 2 days prior to the stay: 70% of the room charge
・The day before the stay: 90% of the room charge
・the day of the stay: 100% of the room charge

*In the case of cancellation, the amount of the accommodation fee pre-transferred, minus the cancellation fee and transfer fee, will be transferred to the customer's designated account.
*If you apply from the accommodation brokerage site, the cancellation fee will be the same as that of the brokerage site.
House rules
The main house rules are as follows. Please also refer to "House Rule Details" when you stay.
・Smoking is completely prohibited inside the building.
・Please refrain from staying with pets.
・Do not make loud noises or play music at a loud volume, as it may disturb your neighbors.
Request for cooperation to prevent new coronavirus infection
Thank you for your cooperation in the following to prevent the infection of the new coronavirus.
・At check-in, we will check the temperature and health condition, and confirm the address, name, etc. with an ID card such as a passport.
・Please wear a mask.
・Please bring your own towel or handkerchief to wipe your hands after using the bathroom or kitchen.